Posts for tag: dental implant
By Dr. Kathy Hay-Reed
April 13, 2021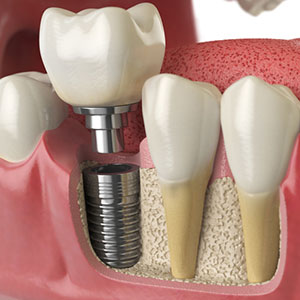 You've lost some teeth, and now you have to decide how to replace them. A fixed bridge or a partial denture are certainly good options. But the best choice today that dentistry has to offer is dental implants.
Implants have exploded in popularity among both dentists and patients, offering exceptional quality in life-likeness and durability. But they do have one drawback that might cause you to hesitate in choosing them: They're usually more expensive than other common tooth replacement systems, even more so if you're replacing each individual missing tooth with an implant.
But before you pass on them for something more affordable, take another look at dental implants. Here are 4 reasons why implants could be the wiser option for tooth replacement.
Life-like and functional. Other restorations can effectively mimic the appearance of real teeth, and they're reasonably functional. But implants score at the top in both categories because they replace more of the tooth—not just the crown, but the tooth root as well.
Bone friendly. Other restorations can't stop the gradual bone loss often caused by missing teeth, and dentures in particular can accelerate it. But implants are made of titanium, a bio-compatible metal that's also bone-friendly—bone cells readily grow and adhere to its surface. This accumulated growth around the implant site helps slow or stop bone loss.
Long-term savings. The integration of bone and implant creates a durable hold that can last for several years, possibly outlasting other restorations in the same situation. Taking into account all the costs—installation, maintenance and possible replacement—that can occur over the life of a restoration, implants could actually cost less in the long run.
Versatile. Implants can be used for more than single tooth replacements—they can be incorporated with other restorations like bridges or dentures to provide better support. Marrying implants with traditional tooth replacement systems can be less costly than implants individually while enhancing benefits like durability and bone strength.
Dental implants may not be right for everyone, particularly those who've experienced advanced bone loss. But if a thorough dental exam shows you're a good candidate, dental implants could be well worth the investment in your health and appearance.
If you would like more information on dental implant restorations, please contact us or schedule an appointment for a consultation. You can also learn more about this topic by reading the Dear Doctor magazine article "Dental Implants: Your Best Option for Replacing Teeth."
By Dr. Kathy Hay-Reed
December 22, 2020

Dental implants are a reliable way to replace teeth. More than 95% of implants survive ten years after their installation, and many of these could conceivably continue for decades.
But that still leaves a tiny few that don't reach the ten-year mark. Some fail early because the implant didn't integrate fully with the bone to create a durable hold. But others fail later—usually for one of two major causes.
Some failures occur due to over-stressing of the implant from abnormally high biting forces, usually because of teeth grinding. People who have this involuntary habit generate excessive force as they grind their teeth, which can damage implants (as well as natural teeth). To reduce this force, a patient's dentist can fit them with a biteguard they wear in the mouth to prevent teeth from making solid contact with each other during a grinding episode.
Fortunately, teeth grinding isn't that prevalent among adults—but that can't be said about the other major cause for implant failure: periodontal (gum) disease. This is a bacterial infection caused by dental plaque, a thin, bacterial film that accumulates on teeth. The implant itself isn't affected by the infection, but the gums and underlying bone supporting the implant can be.
Implants are most in peril from a form of gum disease called Peri-implantitis, which spreads deeper into the gum tissues around implants faster than infections around natural teeth. That's because implants lack the gum attachment of real teeth, which supply a collagen barrier that slows the spread of infection. Peri-implantitis can quickly infect the supporting bone and eventually weaken its connection with the implant.
Because of its aggressiveness and speed, we must diagnose and treat peri-implantitis as soon as possible to limit any damage to the support structures around an implant. If you notice any swollen, reddened or bleeding gums, you should call your dentist as soon as possible for an examination.
And in light of this potential danger to your implants, you should also strive to prevent gum disease through daily oral hygiene. Brushing and flossing your teeth, including around your implants, removes harmful plaque buildup. This daily habit and regular dental cleanings will help you avoid a costly gum infection and ensure your implants are there for years to come.
If you would like more information on dental implants, please contact us or schedule an appointment for a consultation. You can also learn more about this topic by reading the Dear Doctor magazine article "Dental Implants: A Tooth-Replacement Method That Rarely Fails."
By Dr. Kathy Hay-Reed
May 21, 2019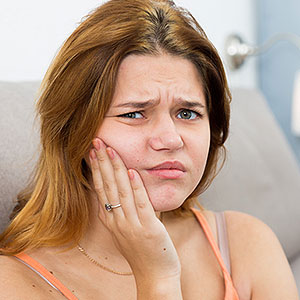 Losing a tooth can be traumatic, but a dental implant can dramatically turn that experience around. Providing functionality, life-like appearance and durability, implants stand out as the premier restoration for lost teeth.
For adults, that is. An older child or teenager with a missing tooth may need to wait a few more years for an implant. The reason: jaw development. A person's jaws, particular the upper jaw, continue to grow with most growth completed by early adulthood. Natural teeth with their periodontal attachments develop right alongside the jaw.
But because an implant attaches directly to the jawbone, its position is fixed: it won't change as the jaw grows and may gradually appear to sink below the gum line. That's why we wait to place an implant until most of jaw maturity has occurred after full jaw maturity. For females, we try to wait until 20 years of age and for males, usually 21 years of age. These are guidelines as some people mature faster and some slower, so a discussion with your dentist or surgeon is necessary to make an educated decision.
While we wait, we can install a temporary replacement for a child's or teenager's lost tooth, usually a partial denture or fixed modified ("Maryland") bridge. The latter affixes a prosthetic (false) tooth in the missing tooth space by attaching it to the back of natural teeth on either side with bonded dental material. It differs from a traditional bridge in that these supporting teeth aren't permanently altered and crowned to support the bridge.
During the time before implants we should understand that the area where the implant will be placed will undergo some bone deterioration, a common consequence of missing teeth. Forces generated as we chew travel through the teeth to stimulate renewing bone growth all along the jawbone. But with a lost tooth the chewing stimulation ceases at that part of the bone, slowing the growth rate and leading to gradual bone loss.
Fortunately, the titanium posts of dental implants stimulate bone growth as bone cells naturally grow and adhere to their surfaces. Before then, though, if the bone volume is diminished, we may need to graft bone material to stimulate bone growth that will enlarge the jaw bone enough for an implant to be placed.
It usually isn't a question of "if" but "when" we can provide your child with an implant for their missing tooth. In the meantime, we can prepare for that day with a temporary restoration.
If you would like more information on dental restorations for teenagers, please contact us or schedule an appointment for a consultation. You can also learn more about this topic by reading the Dear Doctor magazine article "Dental Implants for Teenagers."