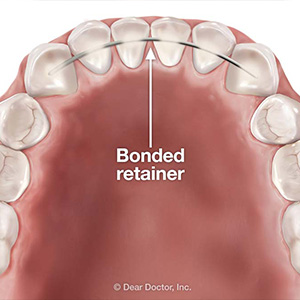 For some, the excitement over their braces coming off gets dampened a bit with the prospect of now having to wear a retainer. But it has to be—newly realigned teeth have a tendency to revert to their previous positions out of a kind of "muscle memory." A retainer prevents that from happening.
But as essential as it is, the standard retainer is almost as noticeable as braces, a major reason why many patients are less than enthusiastic about wearing them. And, because it's common for them to become lost when out of the mouth, replacing one becomes an added expense.
But there's another option—the bonded retainer. This retainer consists of a metal wire bonded to the back of the teeth to prevent them from moving. Because it's fixed in place, only a dentist can remove it.
The bonded retainer addresses the previous two issues associated with a removable retainer. Because it's behind the teeth rather than in front, it's out of sight to others. And, because it's fixed in place, there's no danger of losing it.
But unlike its removable cousin, which can be taken out for oral hygiene, the bonded retainer can make flossing more difficult. And, by nature, a bonded retainer must be worn all the time; a removable retainer allows for a more flexible schedule later in the treatment of a few hours a day.
So, which retainer option is best for you or another family member? A bonded retainer may be more attractive for appearance's sake, if it must be worn indefinitely, or if there's a high probability of the teeth moving out of alignment. And, it might be the right choice where there's a concern about a patient's ability to keep up with a removable retainer.
If you do decide to go with a bonded retainer, ask your dental hygienist for training on using floss with the fixed appliance—this can help improve oral hygiene. Whatever you choose, bonded or removable, your retainer will help you keep that new, beautiful, straightened smile.
If you would like more information on orthodontic retainers, please contact us or schedule an appointment for a consultation. You can also learn more about this topic by reading the Dear Doctor magazine article "Bonded Retainers."